SCWHOG CAMDEN PLAYGROUND RIDE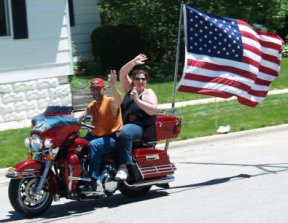 2014 SILENT AUCTION/CAMDEN RIDE
START: KUTTERS-10AM
MAY 3, 2014
LAST BIKE IN: 4PM

What do you say about a group of people who come from all walks of life and give every year since our beginning to raise money for something they believed in, 100%. Words just can't tell what we feel in our hearts about the South Central Wisconsin Harley Owners Group and the Ladies of Harley portion of this organization.

We approached them back in 1989 about donating to the playground and they did their first ride and never looked back, continuing to do their ride every year, without being asked again, donating usually over $3,000.00 towards the upkeep of this special playground. People from all walks of life; teachers, lawyers, doctors, construction workers, officers, ministers, grandparents, students, you name it, they are a part of this organization and they came forward with the same purpose, to help us build this one of a kind playground and keep it going.

This page is dedicated to them and on here we will keep an update on their annual ride and the amount which they raise every year for us. For the third year, the Ladies of Harley will be doing a silent auction the same day of the ride, May 3rd, held in Rudy's Pavillion next to Kutter Harley Davidson in Janesville, WI, and all are welcome to stop by and see the wonderful things which are available.

If you'd like to donate anything for the auction, all money raised goes to the playground upkeep so for years to come children and adults with special needs will have a place to go with their families.

To know what it's like to go on a ride which these wonderful people put on, to let those of the community know there is nothing to fear from the HOG people, I actually went on my first ride with them, back in 1995 and wrote an article for the local paper. It was so long I never thought they'd put it in, but the Janesville Gazette did, and I'm sure many people read it. So in order that others may get an idea of how kind these people are, how caring, I'm going to repeat that same article here. Enjoy.
"We all stand to benefit with HOG on the road"
By Sherry Kuelz
Special to the Gazette



Why do they ride? Who are they? What do they do?
These questions--and some apprehension--run through my mind as I drive to Kutter's Harley Davidson in Janesville to join the South Central Harley Group's Tub Run, a fundraiser for the Muscular Dystrophy Association.

I have volunteered to ride with one of the motorcyclists and to become a HOG member for a day. I'm not sure what to expect but from what I've seen from movies such as "C.C. and Company", Hell's Angels", and "Easy Rider", it's not good.

As I drive under gray skies, I imagine trouble. I consider turning back. Then I think of all the people with MD who will benefit from this ride. I continue on down the road to Kutters.

As I pull in, I see motorcyclists, leather, long hair and beards. But as I look at the bikes, I see rows and rows of carefully cleaned, custom-painted, well kept machines.

I exit my van and walk past the "Motorcycles Only" sign blocking the parking lot. As I pass several people, they smile and welcome me. I go to the registration table and say that I have no bike to ride, and the woman instructs me:

"Find Dave Yardley. He's the one with the pink shirt and pig face."

I wonder, "What is going on?" After turning in my pledge money, I search the crowd for Dave. a few yards in front of me stands a grown man in a bright pink shirt with a pig mask on his face. I wasn't sure if I should laugh of not, being surrounded by HOG members, but I soon notice everyone else is laughing, so I join in.

I explain my situation, and Dave says he'll get me a ride. I finish the meal I'd bought and head back into the store.

Inside, I meet Bonnie Larson, a grandmother who rides a Harley. Both her grandchildren, Taylor, 2, and Caitlyn, 1, own Harley Davidson bicycles.

I am amazed at all the things Bonnie tells me that I never knew about Harley riders. I thought they wore leather to look tough, but it is for protection. As Bonnie put it, "If you put your bike down, you aren't as apt to get road burns."

Leather also protects from bugs and birds and it helps keep you cool, holding the body temperature and coolness in. And it shields riders from the pelting rain, which can feel like hail when driving down the road.

Bonnie has been working at Kutter's two years. She has ridden a Harley for five years. "I love the people. Those bikers have a heart of gold," she says.

Bonnie wants the public to know the HOG chapter is out there to have fun, ride safe, and to help the public.

"Give them a reason to ride," she said, "and they will raise money. It's an organization like PTA or PTO. When you get enough people together with a common interest, they're out to earn money. For people like Camden Playground, MDA, American Diabetes Association, and a lot of it pertain to children."

As Bonnie returns to her job, I come away with a new sense of respect for the HOG chapter.

Cal Niemeier, treasurer of the SCWHOG arranges a ride for me with Al Zimmerman, a lieutenant-commander with the Walworth County Sheriffs Department. HE has driven bikes since he was 22 and, at age 49, still loves it.

I climb on the back of the bike, finding it similar to sitting in a car. The line starts out toward Highway 26 and turns right to Milton. Along every major intersection, officers block traffic for us. As I look into the cars and trucks waiting for us to pass I don't see any angry looks, just smiles. "It's not what I expected," I think as we head east on Townline Road.

The main thing I notice is the fact that everything seems more alive--the outdoor smells, colors, scenery. And the freedom is indescribable.

Al speaks of the Harley Davidson 85th anniversary parade in Milwaukee and how, "people had tears in their eyes when we went along side of them. I felt like I was a movie star. People are very good to us."

Al was right. The people waiting at the intersections wave cheerfully as we pass. Near Eagle, we go by an elderly lady standing in the rain, smiling and waving. In the driveway next to her are two children, also waving. Al's right, it's as if we are movie stars.

Entering East Troy, Al motions behind us, "Look back there," he says enthusiastically.

I turn around and look at the line of motorcycles stretching as far as the eye can see.

It's a beautiful sight and I experience the pride that comes with being a part of HOG. So many people caring for so many less fortunate. No prejudice, no fighting, no ridiculing. Just friendly camaraderie. This is the motorcycle group that the movies should show.

In Darien, Joe Brickner, owner of Farmers Inn, has prepared a rest area for the bikers. Joe and his wife Theresa, both own Harleys. Joe describes the HOG's as "crazy, because they're riding in the rain. But they did it for the cause. When you get 200 bikes leaving in the rain for a good cause, it shows that not all bad guys ride Harleys."

The sun begins to shine as we begin our last drive toward Tiffany. We pass over I-90 and turn right on Highway 51 north of Beloit. Bearing down on Janesville, we pass a National Guard battalion. Soldiers wave and give us thumbs-up.

At the party after the ride I meet two representatives from MDA, 18 year old David Suprise and Rupert Hopkins, Madison, who have just completed their first ride. Carol Suprise of Orfordville, brought her son on the Tub Run and thinks it was wonderful.

David was diagnosed with MD at age 5 and uses a wheelchair.

Carol states they have experienced a lot of ignorance, but not on the Tub Run. David and Rupert take part in several of the races. Throughout the day, they are showered with gifts from SCWHOG.

"We didn't say anything until you (the riders) came to a stop, but we saw all of you coming around that curve and it was, aw," Carol stops, at a loss for words. Her eyes fill with tears and gleam with that pride I've seen so much today.

Jeff Nipple, who helped organize this ride, tells me SCWHOG, 7 or 8 years old now, has about 250 members. People come from Illinois, north to Madison, west to the state line, and east to Burlington. To be a member of the local chapter, you must join the national chapter. National and local fees total around $100 and include two newsletters listing rides. You can get insurance, go on special trips and rent Harleys. Safety is important and emphasized.

Two-thirds of HOG riders are in their 40s or older. Many are parents and grandparents who know the true sense of family.

I hear bikers talking about friends killed or hurt in biking accidents caused by unthinking motorists. Years after, the pain lingers.

One man speaks of the loss of two friends, "Rotten Peter" and "Carp" killed by such motorists. Members wear patches in memory of deceased riders and go on memorial rides. Family is important to this group, and every member is a part of that family.

Jeff describes the HOG as "giving, first, and then friendly. If the people weren't friendly, many of us wouldn't be involved."

Jeff says HOG members are pilots, police chiefs, officers, business owners, teachers, churchgoers, and neighbors. Jeff is a project construction manager with a consulting firm and his wife, Ilena, is a real estate broker.

Soon the day is over and many of the HOG members head for their bikes. I feel honored to have had the opportunity to meet such people. Next time I watch a movie, I'll remember why these people ride and who they are. They ride for "Rotten Peter," killed by a drunk driver. They ride for "Carp", killed by an inattentive motorist. They ride for David Suprise and Rupert, two young men with MD. They ride for Camden Playground. They ride for the American Diabetes Association.

And they ride for freedom, and I for one, thank God they ride, because if they didn't, who would? So let them ride, because they ride for us all.

Editors Note: Sherry Kuelz of Janesville is president and co-founder of the Camden Foundation, which organized the building of Camden playground in Palmer Park. She rode in the South Central Wisconsin Harley Owners' Group fund-raising ride July 22. The ride raised about $17,000, a Muscular Dystrophy spokeswoman said. Kuelz wrote about her experience for the Gazette.

HOMEPAGE

AWARDS

CAMDEN'S ANGELS-Donors

ENTERTAINMENT AT CAMDEN STAGE

LAWS & REGULATIONS

THE MEDIA

THE MEDIA 2

FUNDRAISING

PHOTOS 2-MEMORIAL TO A BOARD MEMBER

REBUILD

VOLUNTEERS